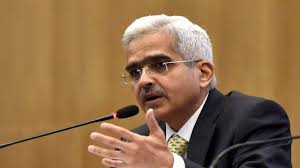 RBI Governor Shaktikanta Das on Wednesday said he will meet delegates of MSMEs and non-banking financial companies (NBFC) next week
A  day after the RBI declared a one-time credit rebuilding plan for the MSME division, Das in a tweet stated, "Will hold meetings with MSMEs affiliations and agents of NBFCs next week".
The RBI's board in its significant hung on November 19, 2018, had prompted the Central bank to inspect a plan for the rebuilding of focused on standard resources of MSME borrowers with total credit facilities of up to 25 crores, subject to such conditions, for example, are fundamental for the guaranteeing financial stability.
The liquidity issue in the non banking financial companies and housing finance companies went to the fore after the arrangement of credit defaults by IL&FS, one of the biggest NBFCs in the nation
The government has supplanted leading body of IL&FS and the debt-ridden organization has recently begun the procedure to adapt its few resources.
On NBFCs, the RBI under Patel had clarified that it was eager to have its impact as the moneylender after all other options have run out yet the time was not up to do as such.
The national bank had credited the issues at NBFCs to resource risk befuddles, calling attention to the dependence on transient liabilities to finance long haul resources which had come to frequent in a rising premium situation where moving over debt became difficult.