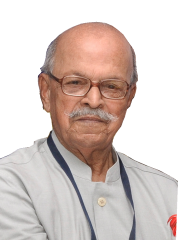 On the 30th of June, 2017, at the stroke of the midnight hour, Industrial India had its own "Tryst with Destiny" as President Pranab Mukherjee pressed a button to electronically introduce the Goods and Service Tax in India.
For the first time, after 70 post-Independence years, India would have seamless borders between the 29 States and 7 Union Territories.  One Nation, One Tax, with some dilutions, was finally a reality.
A vindication of sorts
To the 85 years old 'Appasaheb'Madhusudan Khambete this was a moment of quiet satisfaction.  The introduction of the Goods & Service Tax, substituting 17 different taxes, with multiple and mind-numbing procedures, signaled the death knell of red tape and Inspector Raj.  Goods could finally move freely, through the length and breadth of India. Taxes paid would be just on the value addition. The regressive Octroi was dead. Cascading taxes ceased, and finally, the system appeared designed to help honest industries grow.
The socialistic mumbo-jumbo which had a stranglehold on Industry finally appeared to be relaxing its hold. Reforms, brought in by fits and starts, after nearly half a century of waging battles to free up small & medium industries now appeared to be bearing fruit.
Khambete, in the meantime, had not been quiet.
The push for GST
More than a year ago, when the chances of implementation of the Goods and Services Taxes appeared quite doubtful, he had quietly galvanized the Chamber of Small Industry Associations to fully support the most significant economic reform since Independence.
COSIA had harnessed the services of Sanjay Dwivedi, a soft-spoken former official from the Central Excise Department, who is now an Advocate practicing in the Bombay High Court and a Consultant in Central Excise and Service Tax to many industries. More important, he was a keen student of the Goods and Services Tax as it developed, with the inherent qualities of a teacher.
In the past year alone, COSIA set up dozens of discussion groups, seminars & workshops acquaint 1000's of MSMEs with the purpose, provisions, and implications of the Goods & Services Act even as it developed and edged closer to an introduction.
Sanjay Dwivedi also became COSIA's pointsman in New Delhi and his lucid and even-handed presentations, with both Revenue and MSME implications, gave the COSIA delegation a reputation as the turn-to organization, when Finance Ministry mandarins wanted insights into the practical working of the GST and its impact on MSMEs.
How it all began?
India had not even achieved Independence when Madhusudan Khambete was born on 30th May 1931 in Anjarle, a village in Dapoli Taluka of Ratnagiri District in the State of Maharashtra. By the time he was 3 months old, he was taken to Kolkata where his father worked as a clerk in Myers Pump. House was in a chawl with shops on the ground floor.  About 25 families lived on the upper floors, most of them being Gujaratis.
Though the Khambete lived in relatively straitened circumstances, many of their friends recall them with affection for their hospitality, generosity, and help. The young Khambete attended the Primary Anglo Gujarati School, a Gujarati medium school from 1938 to 1942. With this kind of upbringing, it is no surprise, that Khambete speaks Gujarati and Bengali colloquially and fluently, in addition to English, Hindi and his native Marathi.  Cosmopolitanism is part of his DNA and he is remarkably free from prejudices.
The early years- Education
With the bombing of Kolkata by the Japanese during the 2nd World War, young Khambete was sent to stay with relatives in Nagpur, while his father remained behind in Kolkata. He completed his Matric in Nagpur in 1948, a year after Independence. He was then sent to Mulund on the outskirts of what was then Bombay, to stay with his maternal uncle. So, when he completed his intermediate education at the Narayanrao Topiwala College it was under Pune University at that time.
He was not only a sportsman but captained his school team in hockey, football, and coco displaying the leadership traits which would later hold him in good stead.
After completing Intermediate Science, he then went back to Kolkata. His initial interest was Aeronautical Engineering, but after 3 years of attending the Institute near Dum Dum Airport, between 1950 to 1953, the young Khambete got some devastating news. The government had taken over the Airline industry and declared there was a surplus of staff. With all his hopes dashed, there seemed to be no point in continuing. His father was deeply annoyed. Quite, fortunately, he got a break with Westinghouse's Saxby &Farmer where he was taken on as a trainee, working 4 days a week at the factory, with 2 days of attendance at College, to do a Diploma in both Electrical & Mechanical Engineering.
The Apprentice
The young Khambete did not take his apprenticeship lightly.
He asked the foreman a lot of questions which that worthy was not interested in explaining. He then took the questions to the Works Manager who seemed equally disinterested. He then wrote out his resignation, walked into the Managing Director Mr. Goodchild's cabin and told him that if his questions were to be given no answers, his apprenticeship was pointless and he was ready to hand over his resignation.  Mr. Goodchild who had 10 patents in Railway Equipment heard him out patiently and persuaded him to continue.  Every 4 to 6 months he would be rotated through the various departments, machine shop, administration, tool room and so on, with him so engrossed in his work that was often oblivious of Mr. Goodchild's occasional rounds in the factory while the rest of the staff & workmen would stand gaping.
The young man's dedication and single-mindedness obviously found favor with the Managing Director because he was selected for 8 months training in England, out of around 250 Engineers and 3500 employees. The training was in part a response to the Government of India's pressure on Westinghouse for more of the manufacturing to be done in India.
The makings of An Entrepreneur in Kolkata
On his return, he was posted in R & D in EMU (Electro Magnetic Unit) focusing on the vacuum and air brakes. He traveled a lot as part of his work.  To Integral Coach Factory at Perambur, to Tata Locomotive Works at Jamshedpur and Diesel Locomotive Works at Varanasi. Being intelligent enough to understand the value of his contributions to innovation and improvement, the thought did occur to him of starting an independent unit of his own.
Two things held him back.  One was his loyalty to the Company which had given him position and recognition. Characteristically, this cast a moral obligation on him, though he was under no Bond.  The second was that he was now 32, already married, with two children and no financial backing whatsoever.
As luck or persistence would have it, one Bihari Singh had his tabela bang opposite the Khambete residence. Bihari Singh owned 100 cycle-rickshaws but he wanted his son to do better things in life.  Khambete acceded to his condition that he takes on his son, Shyam Sunder Singh as a Partner. Along with his good friend S.V. Joshi, the trio set up a small unit ESKEJE Engineers, in a portion of the tabela, for manufacturing pneumatic and hydraulic pipe fittings.
In keeping with his principles, Khambete had decided not to copy or manufacture any of his former company's products. He decided he would start with an allied product, then being imported "Ermeto fittings". Within a short time, orders started coming from Diesel Locomotive Works, Varanasi, and Tata Locomotive Works, Jamshedpur, both close to Kolkata. Between 1963-65, Khambete would work from 9 a.m. to 4 p.m., return home, freshen up and walk across the road for a second stint in his own unit.
From 1 machine, it became 2 and 3 and 10. Orders in hand were Rs.1 ½ lakhs which was pretty good then. But the outside world intruded. Marxist Communism had started growing in Kolkata around this time.  New investments stopped coming to West Bengal and established small businesses started fleeing.
In the meantime, his parents had settled down in Thane, on the outskirts of Mumbai, where his maternal uncles resided.  A close friend of Khambete, Mr. Mhatre was also instrumental in persuading Khambete that their future now lay in Thane, which was then the developing industrial heart of India.
When he submitted his resignation to Mr. Powell who was the Works Manager, he patted Khambete on the shoulder and told him if things did not go well with his venture, Saxby & Farmer's doors were always open.  It was with a heavy heart that he withdrew from the thriving partnership. Eskeje Engineers continued with the Shyam Sunder Singh. The company continues till date though Shyam Sunder is no more.
An Entrepreneur in India's Industrial Heartland – Thane
Khambete's life as an entrepreneur in Thane started badly. The business of supplying parts to railways and maintenance work continued, but his partner let him down badly with the result that for 2 years he could draw no money from the company. Though he did get back his factory after a while, the fact that it was in a residential area made him take the decision which would set his life on a different track.
He decided to buy a 500-sq.m plot from the Maharashtra Industrial Development Corporation in Wagle Estate, Thane with Rs.15000 of borrowing and a loan of Rs.1.5 lakhs from the Maharashtra State Financial Corporation. Putting in 16 to 18 hours work days in his company which he had named Rumson Engineers after his father Ramakrishna.  He had a very simple ambition.  To employ 50 persons and work in 3 shifts!
The birth of TSSIA
The fates had thrown Khambete into what was the cradle and the heartland of Indian Industry for the next half a century, Thane. Along with the long hours he put in to grow his own industry, his ever-helpful and social nature soon saw him play a leadership role in the industrial area.
The educated middle-class technocrat entrepreneurs, who flocked to create the first small & medium industries in the area, had very little financial backing, very little business or financial experience and found themselves strangled in bureaucratic red tape, corruption and an environment in which time had no value. The traditional position given to trade, which had very little respect in Indian Society, no rubbed off on entrepreneurs, many of whom came from a totally different background and just could not come to terms with the things they were required to do for survival.
Naturally, their problems became Khambete's problems and before he knew it, he along with Mr. Srinivas, Mr. Gaglani and Mr.R.B. Ankola got together in 1974 to form the Thane Small Scale Entrepreneurs Association. Its brief was disconcertingly simple.  Any problem the entrepreneur could not handle came to TSSIA.
A Growing Association
TSSIA truly started flexing its muscles after the 1977 visiting of Industries Minister George Fernandes. It was the first big Conference organized in Thane at St. Johns School, which was attended by more than 800 entrepreneurs and others. This was also the occasion when Khambete's reputation for plain speaking was established. The maverick George was trying to casually change the time of the meeting, after agreeing to it previously. Since all arrangements had been made, Khambete courteously but firmly told the Minister that if he did not turn up at the time as agreed the meeting would commence.  George, who must have been accustomed to being unchallenged, appeared surprised.  But he turned up in time at the meeting!
A growing Association had to be housed somewhere and despite all efforts, the Maharashtra Industrial Development Corporation would not allot the 1000 sq. plot without recovering the Rs. 250 per sq.m which was the industrial rate and a big amount at that time.  Khambete in his blunt fashion did some plain speaking. He told Shrinivas Patil who was then the Dy. Chief Executive Officer of the Maharashtra Industrial Development Corporation that the Thane Small Scale Industries Association was, in fact, performing many functions on behalf of the entrepreneur which the MIDC should be doing.  Shrinivas Patil who went on to become the Governor of Sikkim must have been impressed because the next thing they knew was that the plot was allotted to them on a nominal lease of Re 1/year in 1985!
A big Fund Raiser was held at Dadaji Kondeo Stadium in Thane and the late R.B. Ankola lent the association Rs.2 lakhs to kick start the event, but he later refused to accept repayment. Similarly, S.K. Shantilal of S.K. Engineers was a tower of support for Khambete. With his generous help, the first floor got completed.
Out of such acts of individual generosity, the present structure housing both TSSIA and the Chamber of Small Industries Association was built brick-by-brick. From 1974 to 1986, almost on a daily basis Khambete, with a jhola slung on his shoulders, would take a round of various industrial units, to explain and cajole entrepreneurs into parting with the funds needed for the project.  Many entrepreneurs, despite being victims of the very system which TSSIA was created to fight, were still unable to comprehend the need for a full-fledged institution, and personnel required to run the same.
COSIA – CHAMBER OF SMALL INDUSTRIES ASSOCIATION
It was a meeting to discuss the clubbing of Industries (then a hot issue) with Mr. Vengal Rao, the Union Minister of Industries in the Rajiv Gandhi Cabinet in 1989 that led to the formation of the Chamber of Small Industries Association.   When Khambete led a delegation to meet the Minister as President of TSSIA, a point of contention was that the Union Minister could not be expected to meet every local Association and listen to their grievances.
The need for a National Association, an all-India apex body of small industries had already been discussed, as there was the paradoxical situation of the Government consulting large industry associations on issues concerning SME Industries about which their representatives virtually had no clue.  Other small industry Associations were paper tigers who were more adept at lobbying Delhi Ministers rather than genuinely and persistently raising issues on behalf of the small industry.
The Blood Bank was another initiative, which served both a social purpose and also brought in necessary funds to meet the growing expenses of the Associations.
Throughout this period, the pieces of what would constitute one of the most active and effective Small Industry Associations fell into place. The next generation of entrepreneurs formed a supportive foundation to raise COSIA to new heights. The annual summons to the Finance Ministry for Budget Suggestions, inputs for the MSME Act, Labour Laws for Small Industry, becoming a Member of the National Board of MSMEs in 2008, VENDEX Exhibitions at Thane in association with MSME Development Institute, Mumbai.  TSSIA & COSIA activities have spiraled.
COSIA took a delegation of 25 members to visit the East African country of Senegal in 1996, with entrepreneurs forming very useful and productive links. In 2002, COSIA led a very successful MSME Delegation to China. With the highly respected Dilip Salwekar joining COSIA as Secretary-General in 2004, there was a qualitative improvement in the output of COSIA as he spearheaded COSIA outreach to the 4 corners of India.
The Patriarch:
Khambete views COSIA's role as outreach to MSMEs, to go out and meet people, know the areas they come from, their background.  He wants COSIA to become strong enough to solve entrepreneurs' problems.  The government should feel that COSIA is an Association they need to consult.
He thinks Associations all over India should feel that if we are members of COSIA, there is someone who will look out for MSME interests and feel safe.  He believes Associations need to be well-funded if they are to truly function in the interests of their members. Many Associations, he feels, are non-functioning because they have no funds, no infrastructure, no staff, and no expertise.
Two years ago, Khambete finally sold Ramsons Engineers and in characteristic fashion announced at the Managing Committee Meeting that he was no longer entitled to lead them as President since he no longer represented an Industrial Unit as mandated in the rules.
It is not given to every man to look back at nearly 65 years of active work-life.  The satisfaction of having lived a rich, well-spent and fulfilled life is given to even fewer people. To bask in the affection, love, and regard of a whole community of entrepreneurs spread across the whole of India. To secure the admiration of even those whom you oppose is rarer still, for you need to oppose without malice, a quality Khambete possesses.  The highest accolade any man can receive is to be valued, not for his earthly contributions, but for his innate decency, generosity, ability and hard work.
'Appasaheb' as he is affectionately addressed, 'Madhu' to his close friends,  will be remembered as an Institution Builder, a man with a driving vision, fixity of purpose, enormous stamina and the courage to stand by his principles.